Sherlock Holmes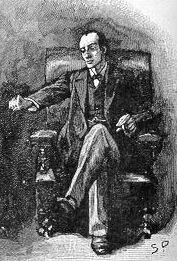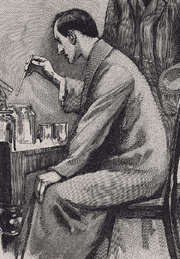 Sherlock Holmes was created by Sir Arthur Conan Doyle. Sherlock Holmes is a consulting detective that uses his logical reasoning, his ability to master any disguise, and his forensic science skills to solve many puzzling cases, A Study In Scarlet says that he spends a portion of his time working in the hospitals laboratory. His first book appearance was in 1887, and he was featured in 4 novels and 56 short stories written by Sir Arthur Conan Doyle. The first novel was A Study in Scarlet and the second was The Sign of the Four, after that He got very popular through the short stories that appeared in The Strand Magazine, the first story being A Scandal In Bohemia.The stories were written from 1880 to 1927. All of the stories except for 4 are narrarated by Holmes closest freind Dr. John H. Watson. Holmes narrated The Lions mane and The Blanched soldier, and The Mazarin Stone and His Last Bow were narrated in third person. Sherlock Holmes was based off of Dr. Joseph Bell, Sir Arthur worked for him as a clerk at the Royal Infirmity of Edinburgh. Sherlock Holmes birth date is uncertain but believed to be in 1854. Sherlock Holmes is still popular now and many movies and Television series are based off of the writings of Sir Arthur Conan Doyle. In the original series (by Sir Arthur Conan Doyle) Sherlock Holmes is described (by John Watson) as being tall, and thin with a nose like the beak of a falcon or eagle. Sherlock Holmes puts most of his time in observation and deduction, most of his powers is of much use to the folks down at scotland yard . Sherlock doesn't do much outside of his detective work and is in a rotten mood anytime he doesn't have a mysterious case to occupy his time. 
Whose the coolest Sherlock Holmes actor?
Ad blocker interference detected!
Wikia is a free-to-use site that makes money from advertising. We have a modified experience for viewers using ad blockers

Wikia is not accessible if you've made further modifications. Remove the custom ad blocker rule(s) and the page will load as expected.