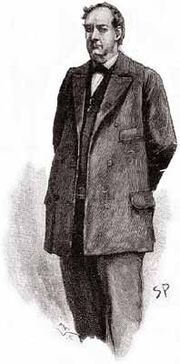 Mycroft Holmes
Mycroft is the older brother of Sherlock Holmes. Mycroft is Sherlock 7 year elder, it is said by Sherlock himself that  Mycroft is more skilled in the powers of observation and deduction. Mycroft is lazy and is usually correct with his deductions but doesn't care to put forth the effort to prove them right. Mycroft is one of the founders of the Diogenes club. The Diogenes club makes provision for unsociable men, all members are not permited to speak to one another. Mycroft usually goes nowhere but back and forth from his lodgings to the Diogenes Club. 
Do you think its better to be smart and lazy, or healthy and dumb
Ad blocker interference detected!
Wikia is a free-to-use site that makes money from advertising. We have a modified experience for viewers using ad blockers

Wikia is not accessible if you've made further modifications. Remove the custom ad blocker rule(s) and the page will load as expected.