Murder By Decree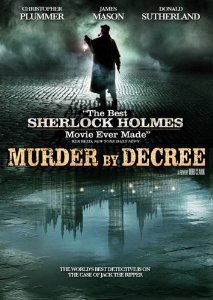 Murder By Decree is a Sherlock Holmes Movie that was made in 1979  staring Christopher Plummer, James Mason, and Donald Sutherland.
                                  Movie Discription
When Scotland Yard is unable to stop the gruesome rampage of Jack the  Ripper, a citizens' committee ask Sherlock Holmes (Christopher Plummer) and his trusted associate Dr. Watson (James Mason) to investigate. But even if Holmes' remarkable powers of deduction can unmask the maniacal fiend, can he and Watson face the most shocking secret of all? Find out in this masterful suspense thriller directed by Bob Clark (A Christmas Story) that both fans and critics have called the most exciting and original Sherlock  Holmes movie ever made.              (discription from back of movie case)
Do you think that Murder By Decree is really the best Sherlock Holmes movie ever made?
Ad blocker interference detected!
Wikia is a free-to-use site that makes money from advertising. We have a modified experience for viewers using ad blockers

Wikia is not accessible if you've made further modifications. Remove the custom ad blocker rule(s) and the page will load as expected.